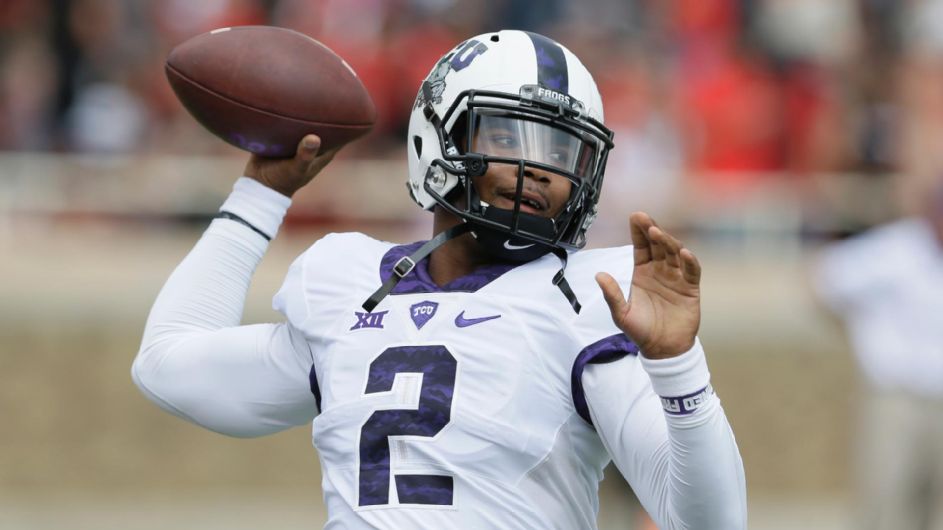 Doug Baldwin. Michael Bennet. Jermaine Kearse. Thomas Rawls. These guys, and 20 others, formed the backbone of the Seahawks roster in 2015. Everyone one of these players went undrafted. Every one of these players earned a spot on the roster the same way as everybody else. By competing. By winning the competition that exists for every spot on the roster. And now the next group of undrafted free agents have arrived. Which of this years group has the potential to be the next starter? We'll take a look over the next few weeks. Today we will start with a quarterback.
Trevone Boykin
Quarterback, TCU
Trevone Boykin had all the makings of a 3rd or 4th round QB in 2014. He finished 4th in the Heisman vote. He passed for 3,900 yards, 33 touchdowns, and rushed for another 707 yards and 8 scores. His pure athleticism made him a potential weapon in any offense. He finished the year as the Big 12 Offensive Player of the Year.
2015 was largely the same. Boykin increased his yards per game, yards per attempt, completion percentage, and rushing yards per attempt. He missed one game due to injury, but was still a well regarded prospect.
All of that changed on December 31st, two days before the Alamo Bowl, the final game of Boykin's college career. According to police reports, Boykin was involved in a bar fight, in which he allegedly struck a police officer. Boykin was arrested, and charged with assaulting a police officer. He would be suspended for the Alamo Bowl, and fall off the draft boards of the 32 NFL teams. On April 30th he signed with the Seattle Seahawks.
Red flags against regarding his character aside, Boykin is a good, if mixed, NFL prospect. He has great athleticism, a strong arm, with good accuracy. However, his play in a spread offense brings into question his ability to replicate his success at the pro level. At 6 feet tall he lacks ideal size (for most teams at least). He's played a bit of wide receiver in college, and a few teams project him there.
In Seattle he will be competing for the backup QB spot. The fit is good, as his play style matches up well with that of starting Quarterback Russell Wilson. His success will ultimately depend on whether or not he can transition from the spread to a pro-style offense. If he does pan out the Seahawks will have an inexpensive option at backup quarterback, and a potentially valuable trade commodity in the future.